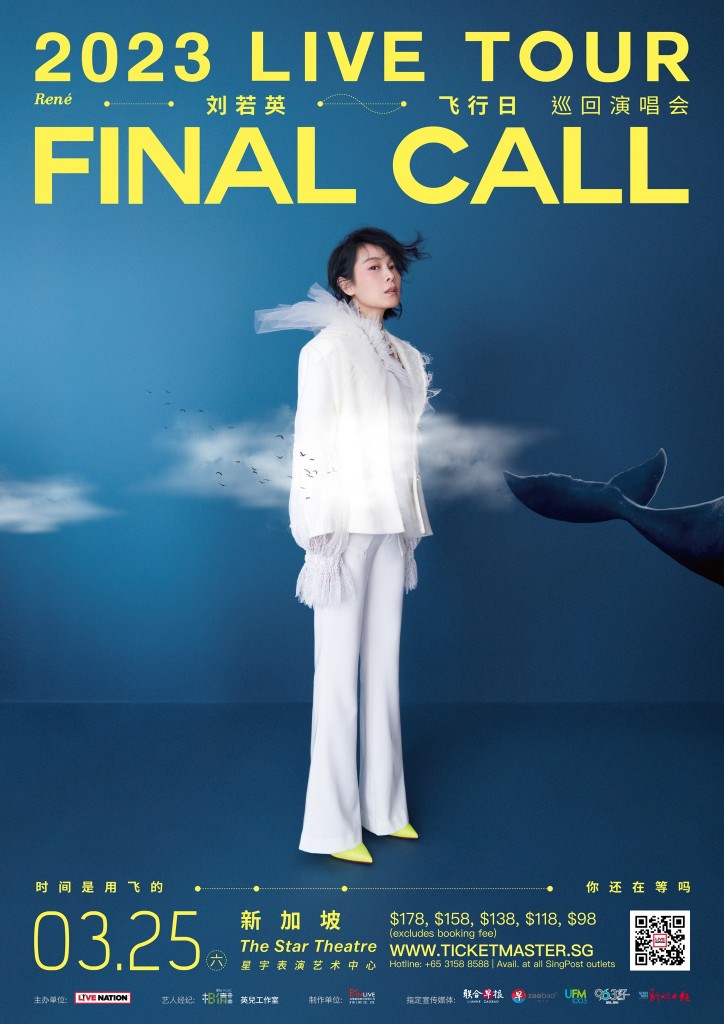 暌违13年 【文艺天后】 刘若英惊喜重返新加坡开唱!
2023「飞行日 巡回演唱会」3/25首航献新加坡
经典歌单 豪华演唱会机关 顶级视听飨宴 就是要与歌迷创造美好的「飞行日」体验!
每次的飞行日,都是"奶茶"刘若英与歌迷见面的日子! 然而因为世界的骤变而让大家暂时留在原地,连见个面说声"你好"也只能透过云端视讯会面。就在所有阴霾散去,世界也开始重启之时,奶茶也终于在去年10月于台北小巨蛋成功启航,随后更是将歌声传送到欧洲伦敦及巴黎等城市与歌迷见面。欧洲演出结束更是风尘仆仆来到新加坡担任五月天新加坡演唱会的惊喜嘉宾,随之也于今日惊喜宣布即将在3月25日再次回到新加坡于星宇表演艺术中心举办【飞行日】巡回演唱会,同时这也是刘若英睽违了13年后,在新加坡举办的第二场个人巡演!
刘若英近年除了推出第15张全新专辑《各自安好》,也常常透过自己创建的录音小房间哼唱音乐给想念的乐迷们听,同时也举办了「刘若英陪你线上演唱会」,全球在线观看次数累积近1.5亿人次。在准备本次巡演时,刘若英也感叹说道:"这两年我只能在自己家里的空间录制,透着线上小小萤幕,唱我喜欢的歌给你们。而今终于等到这一刻,可以回到现场,有你有我,属于我们的现场,真实地面对面大声唱给你们听。" 距离上一次来新加坡开唱已相隔13年之久,去年底担任五月天演唱会嘉宾时一首"后来"更是引起全场大合唱,许多歌迷也纷纷敲碗希望刘若英可以再度回新开唱。
终于在来临的3月25日,刘若英将带着「飞行日巡回演唱会」回到新加坡与大家见面。这次的演唱会不只是一场演唱会,更是一场顶级听觉美学与精致视效构成不容错过的感官飨宴,为的就是能够给大家献上融合视觉、听觉以及撞击心灵的感动。在音乐上更是特邀金曲奖最佳单曲制作人与编曲人陈建骐再度携手,让她的经典歌曲再进化;届时刘若英也将带来《成全》、《后来》、《我们没有在一起》、《各自安好》等多首抒情金曲,绝对能引领全场大合唱。影像视觉上,也邀请到鬼才导演柯孟融,长年合作的编剧搭档「好故事工作坊」何昕明跨界合作,再加上创造出无数令人惊艳的音乐影像团队"仙草影像"参与特效后制搭配华语世界顶级演唱会制作团队'必应创造',绝对会为现场歌迷创造出别与一般的飞行体验!
刘若英 2023 飞行日巡回演唱会 – 新加坡站将在3月25日 (星期六) 晚上8点于星宇表演艺术中心 (The Star Theatre) 举行。门票分$178, $158, $138, $118, $98,而Live Nation会员 (免费注册) 可在2月13日(一)下午2点至晚上11点59分优先购票。2月14日(二)下午2点将于www.ticketmaster.sg 正式公开发售,也可通过新加坡邮政 (SingPost) 或是拨打订票热线3158 8588购票!欲知更多演出详情,请上www.livenation.sg 或是Live Nation Singapore 官方社交平台查询。
---
Rene Liu returns to Singapore with her "FINAL CALL" tour after 13 years!
Live Nation is thrilled to announce Taiwanese singer-songwriter Rene Liu Ruo-ying will be making her way to Singapore as part of her "FINAL CALL" tour.
Every tour is a chance for Rene Liu, widely known by her affectionate nickname "Milk Tea", to meet all her fans around the world! Rene Liu's "FINAL CALL" concert tour was originally scheduled for 2020 but was put on hold due to the pandemic outbreak, and Rene could only meet her fans online. The tour finally kicked off in Taiwan in October last year, followed by 2 sold-out shows in London and Paris. Rene recently made a surprise appearance in Singapore as a special guest at Mayday's concert in December last year. Although "FINAL CALL" is Rene's 9th solo tour, this will be her second solo show in Singapore since her first gig 13 years ago in 2010.
In recent years, Rene has not only released her 15th studio album, "Everyone's Well", but has also created a small recording room where she would sing for her fans, and has successfully held an online concert, "Rene For You 2020 Online Concert", achieving close to 150 million online views. Rene shared that while she was preparing for this tour in the past two years, "I can only record in the space of my own home and sing my favourite songs to everyone through a small screen. I've waited for this moment for very long, and now I can finally return to perform live for everyone."
Rene's 2023 Live Tour – FINAL CALL is not just an ordinary concert, but also a sensory feast not to be missed, composing of good music, top-level auditory aesthetics, and exquisite visual effects. In terms of music, Chen Chien-chi, who has received the Producer of the Year (Single) and Best Music Arrangement at the Golden Melody Awards, was invited to collaborate on the music arrangement of her classic songs. Fans can look forward to hearing many of Rene's hits such as, "Later", "Fulfil", "We Are Not Together", "Each Well" at the concert. In terms of visuals, the talented director, Kevin Ko, was invited to produce the video effects, Shing-Ming Ho, a long-term screenwriter partner, participated in the story creation, and "Grass Jelly Studio", which has created amazing visual effects for many artistes, participated in the post-production for special effects. In addition, the concert will be produced by top Chinese concert production team, "B'in Live", who will be coordinating the overall stage presentation, audio, visuals, etc.
Rene 2023 Live Tour – FINAL CALL in Singapore will take place at The Star Theatre on 25 March 2023 (Saturday). Live Nation members can secure tickets first during the exclusive Live Nation presale beginning 13 February (Mon) from 2pm till 11:59pm. Visit www.livenation.sg for free membership signup and presale access. Tickets to public will be available from 14 February (Tue) 2pm onwards via www.ticketmaster.sg.