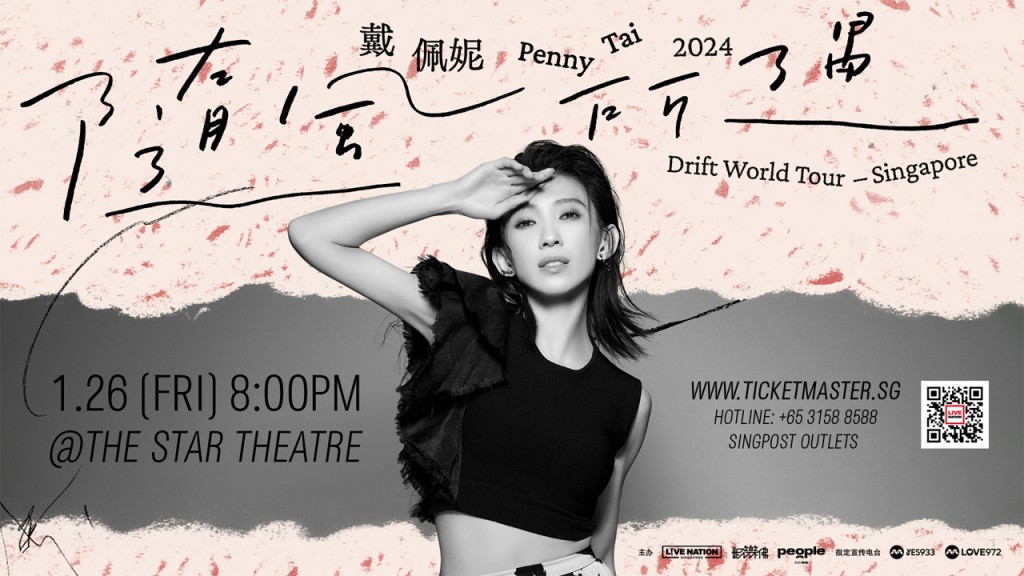 Live Nation Singapore is thrilled to announce that the renowned Mandopop singer-songwriter Penny Tai will be holding her "Drift World Tour" in Singapore on 26 Jan 2024 at The Star Theatre. This marks Penny's second solo show in Singapore after 11 years!
Penny is known for her contributions to the Mandopop music scene and her exceptional talent as a songwriter and performer. With a career spanning over two decades, Penny has become an iconic figure in the industry. Penny has released numerous albums, including 13 full-length original albums and 4 EPs. She is also recognized for her exceptional songwriting skills, having composed over a hundred original songs. Her music often carries deep emotional themes and resonates with a wide range of audiences. Over the years, Penny has received recognition for her musical achievements, with multiple nominations and wins at the Golden Melody Awards, one of the most prestigious music awards in the Mandopop world. She holds the record for the most awards received by a female artist in the history of the Golden Melody Awards.
This tour was inspired by Penny's album, "The Passive Audience", which was released during the pandemic. It not only comforted the hearts of many listeners but also had die-hard fans eagerly and impatiently awaiting her return. Just as the album marked its one-year anniversary, Penny fulfilled her promise to all her fans, who had been eagerly anticipating her concert. The tour kicked off in Taipei earlier in July this year and continued to several cities in China. The concert received rave reviews, with fans enthusiastically singing along to her hit songs, creating an atmosphere reminiscent of a massive karaoke party where she performed a total of 25 songs.
For this tour, titled the "2024 Drift World Tour", Penny chose the opening song, "As the Wind Desires" from her album, "The Passive Audience", and changed the word "Desire" to "Encounter", giving the tour its name, which also means "Where the Wind Takes Me" in Chinese. Penny shared her inner thoughts, saying, "Riding on the songs I've created, I wonder where they will lead me." She added, "I hope we can all be as free as the wind. Even if things don't go our way, we can still go with the flow and embrace whatever comes our way."
Penny also expressed that different types of music are akin to perceiving various forms of wind. She went on to share, "Whether it's music or the wind, both are intangible and invisible. However, through our individual senses, each person's perception of music and wind is unique". Penny's tour this time will revolve around the theme of "wind" and will be divided into four sections: "Facing the Wind", "Riding the Wind", "Strong Winds", and "With the Wind". Various elements will be incorporated into the stage to turn the invisible wind into a tangible presence, creating an atmosphere filled with dynamic motion and beautiful composition.
Penny Tai 2024 Drift World Tour in Singapore will take place at The Star Theatre on 26 Jan 2024 (Fri). Live Nation members can secure tickets first during the exclusive Live Nation presale on 7 Nov (Tue), from 12pm till 11:59pm. Visit www.livenation.sg for free membership signup and presale access. Tickets for the general public will go on sale on 8 Nov (Wed), from 12pm onwards via www.ticketmaster.sg.
LIVE NATION PRESALE
Register for a FREE membership via www.livenation.sg to access the exclusive presale!⁠
Limited tickets available.
START DATE
7 NOVEMBER 2023
12:00PM via www.livenation.sg ONLY
END DATE
7 NOVEMBER 2023
11:59PM
---
GENERAL SALE
START DATE
8 NOVEMBER 2023
12:00PM onwards via online, hotline and SingPost outlets