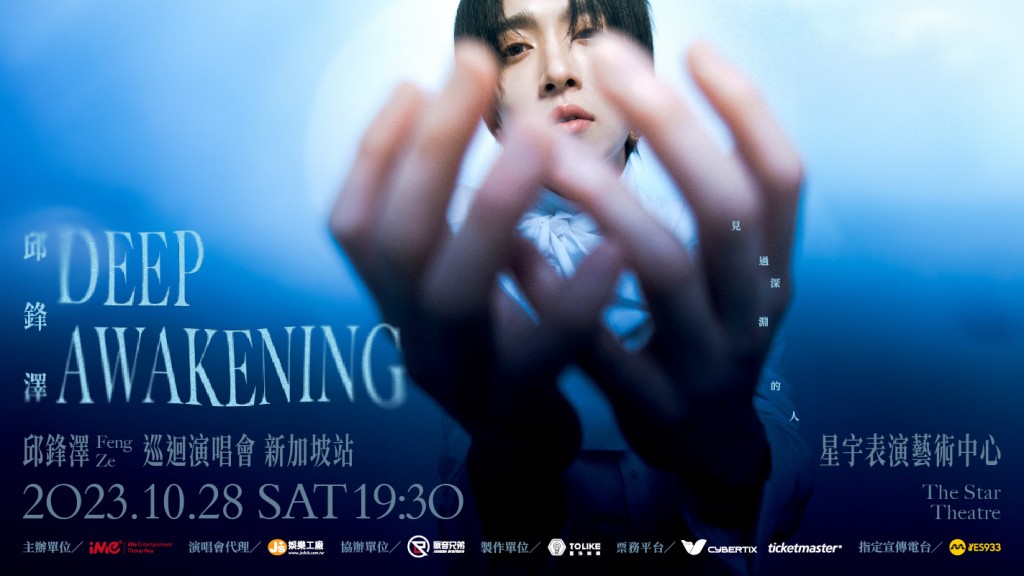 After much anticipation from fans, the talented Chinese pop music artist, Qiu Fengze, has finally announced his "Deep Awakening" world tour in Singapore. This tour promises to be of an unprecedented scale, spanning multiple cities worldwide, and offering an awe-inspiring musical journey for all his fans.
The "Deep Awakening" world tour not only marks Qiu Fengze's largest tour since his debut but also represents a fresh breakthrough in his music creation. This gifted musician will showcase even more mature vocal skills, diversified musical styles, and profound emotional expressions during this tour, making it an unforgettable musical extravaganza.
The concert aims to explore the depths of life and celebrate the touching emotions within. Qiu Fengze will perform his latest original compositions, guiding the audience into a world of spirituality and emotions through his music. Additionally, he will also revisit some of his classic works, commemorating every important moment in his musical journey.
The "Deep Awakening" world tour by Qiu Fengze will be held on 28 October 2023, 7:30PM, at The Star Performing Arts Centre, enabling Singapore and global fans to personally experience this sensational musical feast.
During the concert, Qiu Fengze will bring his passion and talent, embarking on a musical journey of "Deep Awakening" with all his fans. Stay tuned for this unforgettable musical event!
閉上眼睛, 將情緒鬆綁,沉入自己最深的海。
卸下多餘的防衛、解掉龐雜的慾念,用誠實的心靈面對海底的幽暗。
幽暗並不會把我們帶走。
幽暗只是教導我們凝視深淵的方法,教導我們不看見其他的,只看見自己。
教導我們不需要光也能變得透明。
變得透明以後,記得再次睜開眼。
是否想起了誰?或是想起生活裡令你留戀的一切。
這一次,會用更強壯的姿態甦醒,找到繼續生活的重心。
在樂迷期待已久的時刻,華語流行音樂界的創作歌手邱鋒澤終於公佈了他的 "Deep Awakening" 巡迴演唱會新加坡站,為樂迷們帶來震撼心靈的音樂之旅。
這場 "Deep Awakening" 巡迴演唱會,不僅是邱鋒澤自出道以來的最大規模巡演,也是他在音樂創作上的全新突破。鋒澤將在巡演中展現出更加成熟的演唱技巧、多樣化的音樂風格,以及深邃的情感表達,絕對會是一場難忘的音樂盛宴。
邱鋒澤將在演唱會上演繹他最新的原創音樂,帶領觀眾進入一個充滿靈性與情感的音樂世界。此外,他也將演唱一些經典作品,回顧音樂旅程的每一個重要時刻。
邱鋒澤 "Deep Awakening" 巡迴演唱會將於10月28日,19:30,在新加坡星宇表演藝術中心舉辦。讓在家鄉的樂迷都能親身感受這場震撼的音樂饗宴。
屆時,邱鋒澤將帶著他的熱情和才華,與樂迷們共同探索 "Deep Awakening" 的音樂之旅。敬請期待這場令人難忘的音樂盛會!
[About Qiu Fengze]
Qiu Fengze is a Chinese pop music artist, singer, born and raised in Singapore. Since his debut, he has touched the hearts of countless fans with his deep vocals. His musical style spans across various genres, including pop, rock, R&B, and more, often expressing his reflections on life, emotions, and the world through his songs. His music has received high praise from music critics and fans, earning him the reputation as one of the representative new-generation artists in the Chinese music industry.
---
PRESALE

Limited VIP tickets available for presale via 
www.ticketmaster.sg
 only.START DATE4 AUGUST 2023
12:00PMEND DATE7 AUGUST 2023
11:59AM
GENERAL SALE START DATE
7 AUGUST 2023
12:00PM onwards via online, hotline and SingPost outlets