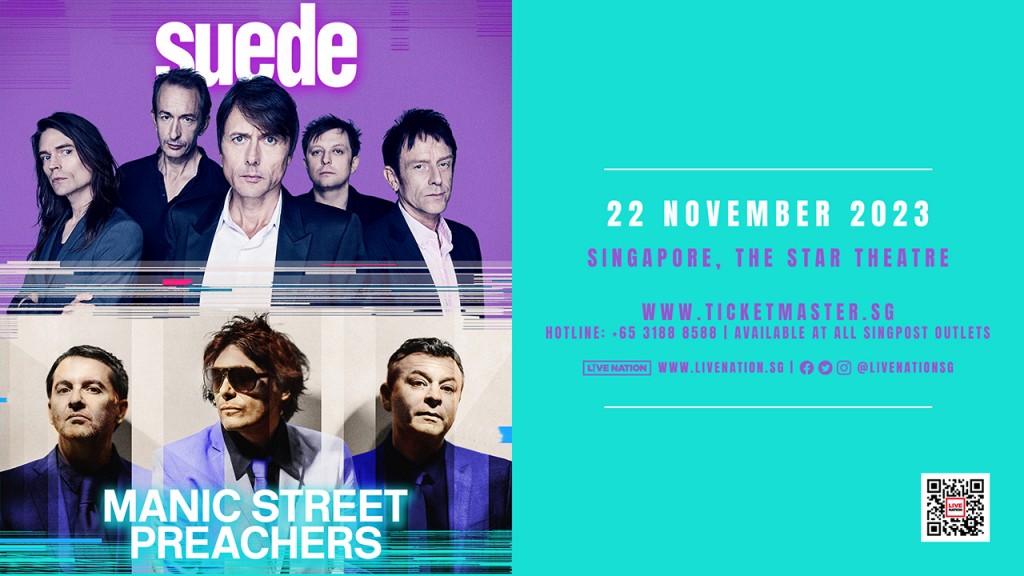 Suede and Manic Street Preachers are adding more shows to their co-headlining tour in Asia, including November 22nd in Singapore. The bands have toured together across Europe in 1994, and this would be their first time bringing the co-headlining tour to Asia.
MANIC STREET PREACHERS & SUEDE LIVE IN SINGAPORE 
will take place at 
The Star Theatre 
on 
22 November 2023
 (Wed). Live Nation members can secure tickets during the exclusive Live Nation presale on 17 Aug (Thu) from 10am till 11:59pm. Visit 
www.livenation.sg
 for free membership signup and presale access. Tickets to the public will be available from 18 Aug (Fri), 10am via 
www.ticketmaster.sg
.
About Suede

Suede released their ninth studio album 'Autofiction' last September, which includes BBC 6 Music and Radio 2 playlist mainstays 'She Still Leads Me On' and '15 Again', received widespread critical acclaim. Following the 'Autofiction' launch shows, Suede returned to America in November for the first time since 2011 for an anticipated co-headline tour with Manic Street Preachers. Suede's return to the live stage continues with a UK headline tour through March 2023, performing classics, hits, and tracks from 'Autofiction'. The tour began at Bath's Forum and closed at O2 Academy Brixton, 30 years after Suede made their iconic debut performance at the London venue in May 1993.
Suede
 recently released a companion piece to the new album with their first short film production, 
Autofiction: A Short Film
. Directed by Katie Lambert (
MrMr Films
) and created in collaboration with 
Suede
, the production was described as "essential and immediate" by AnOther Magazine, and explores the complexities of memory, the perceived truth, communication, and anxiety in human relationships. Themes at the core of 
Suede
's new album, which, as its title suggests, is one of Brett Anderson's most personal records yet.
"Autofiction has a natural freshness, it's where we want to be", Anderson says. And where Suede wants to be is, in a way, the same place as they were when they began 30 years ago – a group of people living off the raw sensation of creating music together in a room.
In a move that recalled their most formative years, the writing process saw Suede becoming like a new band again – lugging their own gear to a Kings Cross rehearsal space, collecting a key, setting up, and starting to play.
About Manic Street Preachers

Manic Street Preachers are one of the most influential and iconic rock bands to have come out of Wales. Formed in Blackwood in 1986, they have gone on to release 14 studio albums and have headlined countless festivals including Glastonbury, T in the Park, V Festival, and Reading & Leeds. They have won eleven NME Awards, eight Q Awards and four BRIT Awards and were also nominated for the Mercury Prize and the MTV Europe Music Awards.
Their first album 'Generation Terrorists' released in February 1992 was a hugely ambitious debut, establishing them as unique artists, combining classic rock riffs with the attitude of pop and punk and lyrically setting themselves head and shoulders above their contemporaries. Throughout the years they have collected fans from all over the world, maturing and changing musically whilst always keeping the classic Manic sound. At their live shows early tracks such as 'You Love Us' and 'Motorcycle Emptiness' comfortably sit alongside huge chart hits such as the No. 1 single 'If You Tolerate This Your Children Will Be Next'; other singles 'You Stole The Sun From My Heart', and 'Design For Life' mosh alongside newer songs such as 'Orwellian' and 'The Secret He Had Missed', both taken from their most recent album 'The Ultra Vivid Lament' which reached No. 1 in the UK Album Charts in September 2021.