NMIXX SHOWCASE TOUR <NICE TO MIXX YOU> in SINGAPORE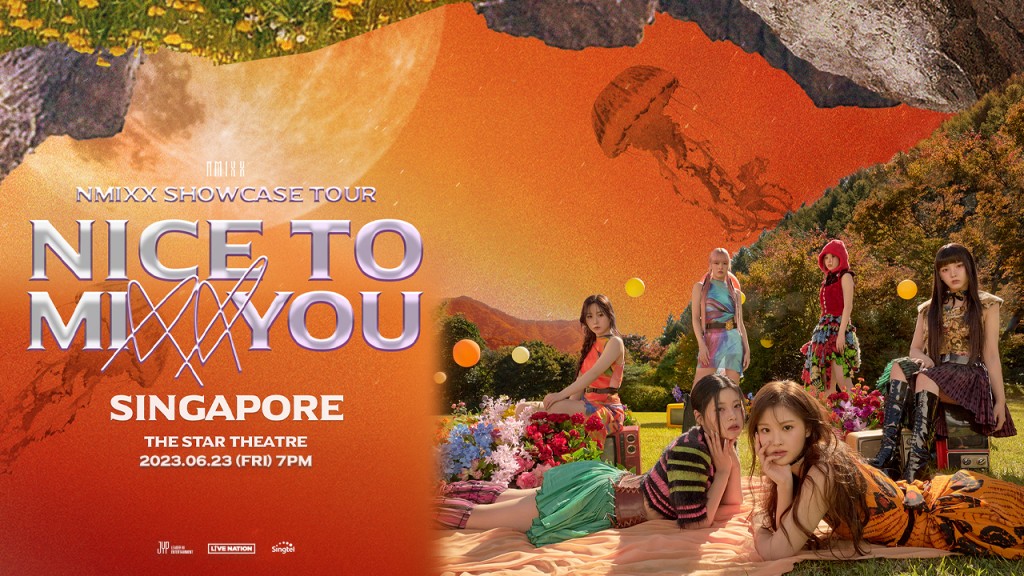 One of the newest South Korean girl groups, NMIXX, have announced their first-ever showcase tour: NMIXX SHOWCASE TOUR <NICE TO MIXX YOU>. The 13-city exclusive run of shows, produced by Live Nation, kicks off in May with eight dates in the USA before continuing in Asia with stops in Bangkok, Jakarta, Taipei, Singapore, and Manila. Despite being a relatively new group, NMIXX has already gained attention and recognition in the K-pop industry. The group has been praised for their vocal and dance skills, and described as a promising addition to the K-pop scene, as they continue to make their mark with their fresh approach to music and performance. The tour will also be featuring music from their first EP "expérgo", showcasing NMIXX unique style across various genres, including hip-hop, R&B, and Soft Pop.
NMIXX SHOWCASE TOUR NICE TO MIXX YOU in SINGAPORE will take place at The Star Theatre on 23 June 2023 (Friday). Singtel mobile users will enjoy an exclusive priority sale on 19 April (Wednesday). Visit www.singtel.com/nmixx for more information. Live Nation presale begins on 20 April (Thursday). Please visit www.livenation.sg for free membership signup and presale access. General public tickets are available on 21 April (Friday) from 10am via www.ticketmaster.sg. All Cat 1 ticket holders will be eligible for a chance to gain access to the soundcheck party, with 1,000 passes to be won, or be one of the 100 lucky winners to walk away with a signed poster! Winners will be randomly selected via a system-generated lucky draw.
About NMIXX:
NMIXX is a South Korean girl group formed by SQU4D, a sub label of JYP Entertainment. Consisting of LILY, HAEWON, SULLYOON, BAE, JIWOO and KYUJIN, NMIXX debuted in February 2022 with the single AD MARE that featured the title track "O.O".
The name NMIXX combines the letter "N", which stands for "now", "new", "next" and the unknown "n", and the word "mix", which symbolizes combination and diversity, altogether meaning "the best combination for a new era".
NMIXX's debut single AD MARE introduces a new genre called MIXX POP, packed with the confidence and ambition of a new group ready to take on the world. It blends in two or more genres into one flavourful song and represents the unusual experiment of NMIXX. "O.O" is a reinterpretation of baile funk and the track leads the listeners to the world of MIXX POP.
After the start of promotions, the MV of "O.O" surpassed 20 million views in the first 24 hours of its release. The song entered the Billboard Global Chart (excluding U.S.) at No. 71, and also ranked No. 138 on Billboard Global 200. Meanwhile AD MARE sold over 220K copies in the first week, recorded the highest debut album sales by a girl group ever in K pop history.
NMIXX successfully created new world for itself in their sophomore single ENTWURF. With the title track "DICE", which is another MIXX POP track, NMIXX proved why they are the best combination for a new era. ENTWURF sold over 500K copies and "DICE" was ranked at No. 155 on Billboard Global 200 Chart.
NMIXX won 'Favourite New Artist' at the 2022 MAMA Awards which is awarded to K-pop artist who sold over one million records in 2022.