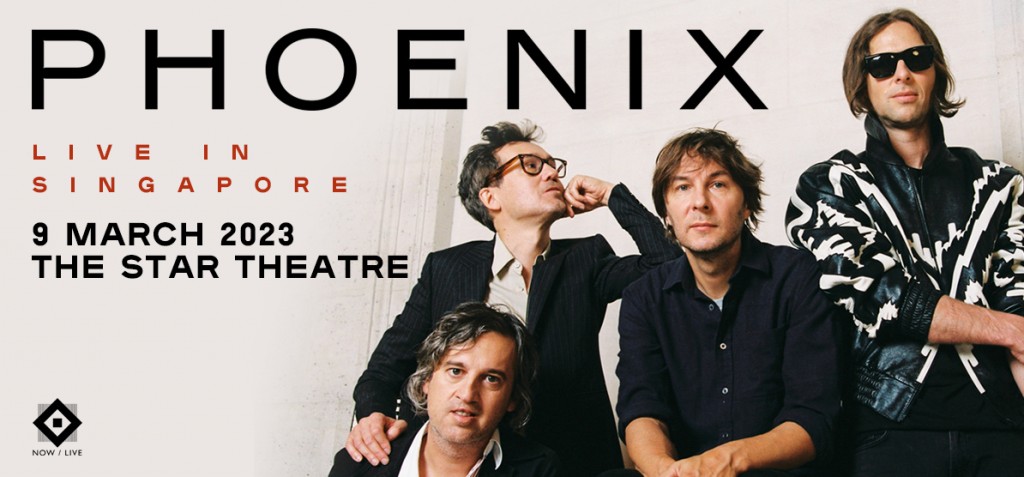 Now/Live are beyond delighted to present PHOENIX – Live in Singapore on 9 March 2023 at The Star Theatre! Our favourite French indie icons return to set the stage alight once again with their electrifying live show, hot on the heels of the release of their latest album "Alpha Zulu".
PHOENIX – LIVE IN SINGAPORE
THE STAR THEATRE
THURSDAY, 9 MARCH 2023, 8 PM
Produced by the band themselves, and recorded in Paris' Musée des Arts Décoratifs, which sits in the Palais du Louvre, Alpha Zulu is everything Phoenix does best: effortlessly catchy melodies married with always-innovative production, resulting in what is destined to be one of 2022's albums of the year. Indeed, Alpha Zulu – the band's first album since 2017's critically acclaimed record Ti Amo – is an immediate reminder of what has made Phoenix one of the most beloved artists of the last two decades, reinforcing the band's enduring – and continued – influence on pop culture.
LINKS
Phoenix
Website: https://wearephoenix.com/
Facebook: https://www.facebook.com/wearephoenix/
Twitter: https://twitter.com/wearephoenix
Instagram: https://www.instagram.com/wearephoenix/
YouTube: https://www.youtube.com/user/welovephoenix
Now/Live Asia
Website: https://linktr.ee/nowliveasia
Facebook: http://www.facebook.com/nowliveasia
Twitter: http://twitter.com/nowliveasia
Instagram: http://instagram.com/nowliveasia
Priority Sales:
Internet:
22 Nov 2022, 3pm – 22 Nov 2022, 11.59pm
Public Sale:
Internet:
23 Nov 2022, 10am
Other Channels:
23 Nov 2022, 10am
---
Language
English
---
Duration
Approximately 1 hour 30 minutes, no interval