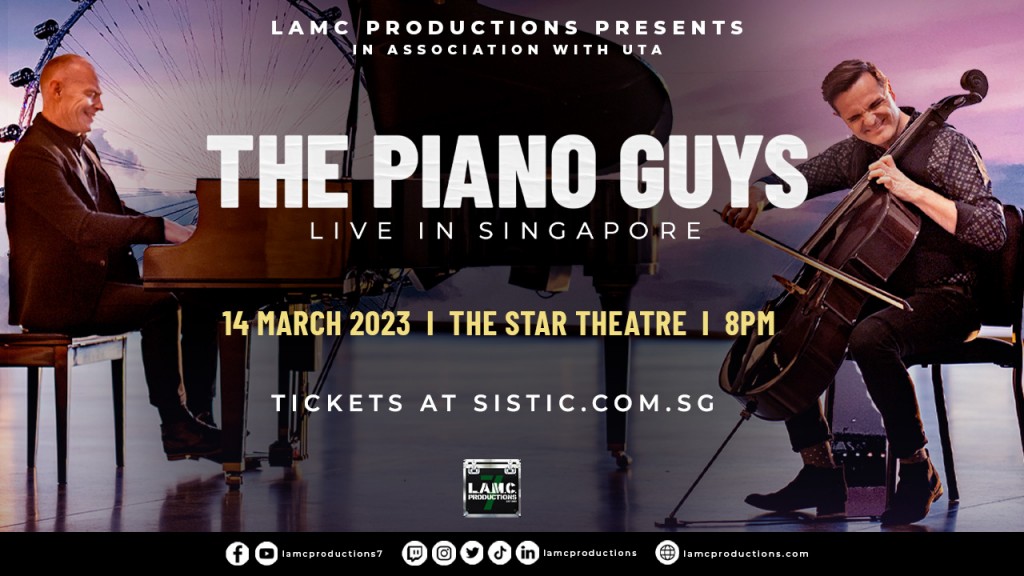 Award-winning The Piano Guys take their magical sound to Singapore
The phenomenal Utah-based piano and cello duo, The Piano Guys, is taking their award-winning pop-classical crossover to The Star Theatre – Singapore, their only stop in Asia, on March 14, 2023! Experience the sound of Steven Sharp Nelson (cellist, songwriter) and Jon Schmidt (pianist/songwriter) live and finally, in person.
The Piano Guys first started in a Southern Utah piano shop when Jon Schmidt entered the shop and met the owner, Paul Anderson. A couple of months later, with Al Van Der Beek stepping in as their technician, they started posting music videos on Youtube that eventually went viral, earning them over two billion views and seven million subscribers to date. In September 2012, they signed with Sony Records, and released their debut album "The Piano Guys" featuring their trademark mix of pop songs and classical pieces. In May 2013, they released the follow-up "The Piano Guys 2" album that went straight up to Number 38 on the US Billboard 200 and Number 1 on the Classical Albums Chart. Their 2018 album "Limitless" also got the same success, reaching the top spot on the Billboard's New Age Chart. To celebrate their 10th year, The Piano Guys shared their studio album "10" in 2020.
Get ready for a magical night on March 14, 2023 as The Piano Guys are set to perform their most popular hits and new arrangements for people of all ages. Be inspired, be amazed, and most of all, get lost in the sound of The Piano Guys.
Start Sales Date
All Channels:
21 Oct 2022, 10am
---
Language
English
---
Duration
2 x 60 minutes with a 20-minute interval