Synopsis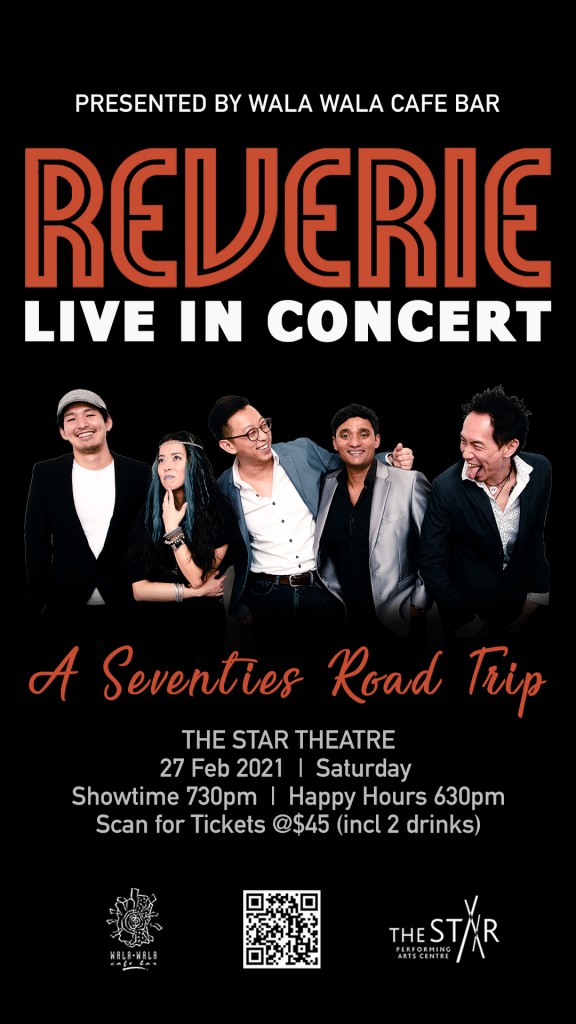 Reverie takes you back in time as we embark on a road trip through the Sizzling Seventies:
We ease on down the road with the tunes of stellar singer-songwriters James Taylor, Boz Scaggs and the signature hits of America and The Eagles before exploring the deep soul of Stevie Wonder, Al Green and Bill Withers. The journey then culminates with the rock hits of Toto, Dire Straits and Led Zeppelin.
Live music is back! Relive your favourite tunes (and those Reverie Friday nights!) with us on this intimate night of lush harmonies and stellar musicianship at The Star Theater, proudly brought to you by Wala Wala Café Bar.
Reverie is:
Surath Godfrey – Lead Vocals and Guitar
Joanna Lim – Keyboards, Saxophone and Vocals
Simon Yong – Lead Guitar and Vocals
Hiroaki Maekawa – Bass Guitar
Ken Hanrong Lin – Drums, Percussion and Vocals
| | |
| --- | --- |
| Details | Time |
| Doors Open | 6:30pm – 7:30pm |
| Set 1 | 7:30pm – 8:15pm |
| Intermission 1 | 8:15pm – 8:45pm |
| Set 2 | 8:45pm – 9:30pm |
| Intermission 2 | 9:30pm – 10:00pm |
| Set 3 | 10:00pm – 10:45pm |