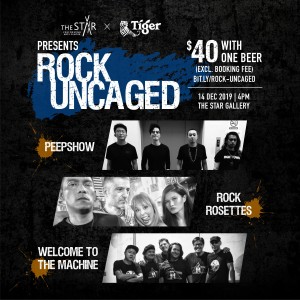 Tiger Beer and The Star Performing Arts Centre are collaborating to provide a platform for local bands with the upcoming ROCK UNCAGED Concert at The Star Gallery on Saturday, 14 Dec 2019. You can make a positive impact in the future of our home-grown musicians by showing your support!
#RockUncaged #TheStarPAC #StarTixSG #GreenRoomSuite
Date: 14 December 2019, Saturday
Time: 4PM
Venue: The Star Gallery, The Star Performing Arts Centre
Ticket Price: $40* (excludes StarTix Booking Fee)
*Each ticket holder will be entitled to 1 Beer.