Star Wala Series Event Postponement Notice
Due to the return of Phase 2 (Heightened Alert), The Star Performing Arts Centre and Wala Wala Café Bar will be postponing Star Wala Series events till the COVID-19 restrictions have relaxed.  It is a sad but needful decision to make.
Our team has put in a lot of effort into planning and coordinating these events, to ensure you have a rocking good experience during this current dull situation.  We hope you will ride through with us and see to the fruition of these events.
With Lots of Love,
Star Wala Series Team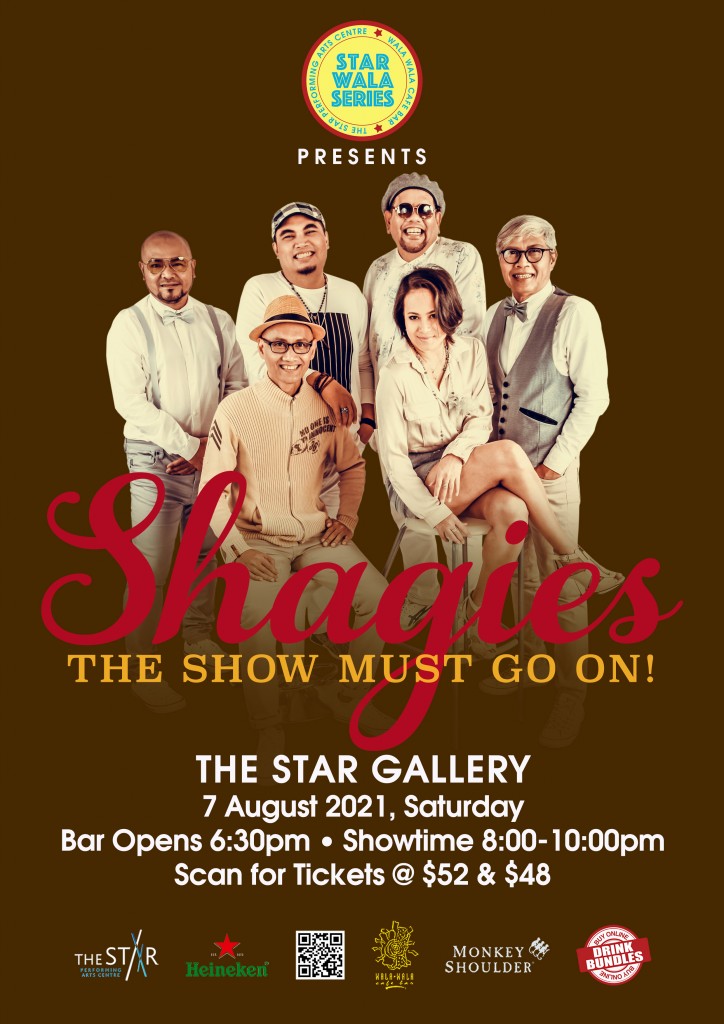 PSA:
As announced in the news on 04 May 2021, due to the temporary move to Phase 2 from 08 May to 30 May, we will be postponing all Star Wala Series till further notice. New dates for the affected shows on the 15th and 29th May will be announced once we move back to Phase 3 as a nation.
We apologise for any inconvenience caused and seek your understanding in our efforts to minimise the spread of the virus through the show postponements.
Please be patient, we can rock on later!
~~~~~~~~~~~~~~~~~~~~~~~~~~~~~~~~~~~~~~~~
'The Show Must Go On', even if we are going through this pandemic.  Rock never die they say… and yes Shagies, for the past 34 years, is still rocking on, alive and kicking.
Fans and friends are hungry for entertainment and Shagies shall provide the music and a whole lot more.  It will be an exciting night to remember!
A six-piece cover band established since 1987.
Dynamic, versatile, fun and entertaining… Singapore's homegrown talent playing a tight mix of Dance, Latin, Pop and Rock hits from the classics, retro and till the present.  Their trademark song "Bohemian Rhapsody" by Queen never fails to impress the audience and always wanting more.
Come and party with them!
Shagies started off by joining the YAMAHA band competition in 1986 where they came in second.  The name Shagies was taken off a character in the popular cartoon series Scooby Doo.  They began playing professionally in clubs such as NCO Club, Anywhere, Europa since 1987.
In 1993, the band performed at the Sentosa Music Festival alongside international artists such as Bon Jovi, Rick Price, Jimmy Barnes and Andy Lau.  The band represented the country in the Singapore Tourism Board's promotional show in Surabaya, Indonesia in 1996.
The band has made television appearance in shows such as Tonight with Gurmit in 1997, Asian Television Awards in 2000 and Anita Sarawak's Speak of the Diva in 2001 which increased their popularity with the local audience.  The band also made a guest appearance in the award winning SURIA channel drama Selagi Ada Kasih.
| | |
| --- | --- |
| Details | Time |
| Foyer/Bars Open | 6:30pm – 8:00pm |
| Performance | 8:00pm – 10:00pm |
Star Wala Series is a collaboration between The Star Performing Arts Centre and Wala Wala Café Bar, with the aim to promote local bands and providing a platform for them to showcase their talents.