EVENT NOTICE
 "Steinway Artist Joja Wendt | STARS ON 88 | LIVE IN SINGAPORE | Celebrating German National Day" is scheduled to take place on Sunday, 3rd October 2021.
Please note the following essential information that you will need to plan for prior to the concert:
Do not gather in a group that exceeds more than 5 people (in line with national guidelines on group size). Mixing and physical interaction between different groups (5 per group) are not allowed and will be reminded by the frontline staff when sighted.
As of 14 June 2021, Pre-Event Testing (PET) is required for all attendees of LIVE performances with an audience capacity that exceeds 50 persons. Admission is dependent on the PET result produced.
Exemption is only applicable for patrons:

who have completed the full COVID-19 vaccination regime (14 days after the second dose of Pfizer-BioNTech/Comirnaty or Moderna vaccines); or
who have recovered from COVID-19 with a valid PET Exemption Notice; or
who is a child aged 12 years and below and not eligible for vaccines currently under the National Vaccination Programme (subject to an overall attendance cap of 20% of attendees).
For more details on the exemptions please refer to our

PET FAQs

.
The COVID-19 test must be taken from a Ministry of Health (MOH) approved vendor. Please obtain your PET from the list of approved test providers here.
The validity of the PET is 24 hours from the time of registration at the testing premise and before the end of your attendance of the event. Only patrons with a PET within the period of validity can attend the event.
You will need to produce any one of the following 'Acceptable Documents' together with your original Government-issued photo identification (e.g. NRIC and/or Passport) for verification to gain entry to the venue:

Valid vaccination status on SafeEntry (Business) App; or
Valid "cleared" test status on SafeEntry (Business) App; or
PET Exemption Notice issued by a MOH-approved COVID-19 test provider; or
Discharge Memo with the first PCR date indicated and issued by MOH.
For further event queries and any refund requests (in case of event cancellation), please email:

startix@thestar.sg

.

Steinway Artist, JOJA WENDT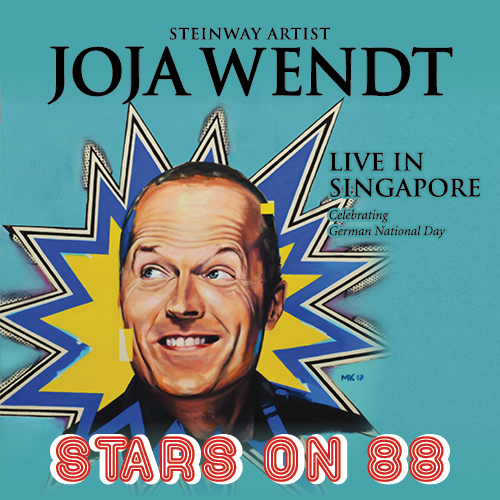 Joja Wendt is redefining the idea of a conventional piano concert. Trained in the Netherlands and New York, the pianist emerged from the renowned Hamburg scene and has played alongside all time music legends over the course of his career, like rock 'n roll ikon Chuck Berry and the immortal Joe Cocker.  As a result, he draws his repertoire and musical vision from an extensive pool of pop, jazz and classical music.  Presented with a large slice humour, charm and charisma, his regular concerts are now themselves the stuff of legend throughout Europe.  In his latest programme, Joja is showing with huge success how hits by AC/DC, Prince or Ed Sheeran can be played solo on the piano with the same breath-taking energy that would usually require a band with several members.  From Bach to Rachmaninov, Joja's arrangements, intuitive jazz playing techniques, broad range of pop music and his own compositions are a testament to a wonderful kind of musical freedom.  Such diversity once again highlights the fact that outstandingly and authentically presented music can delight people – regardless of whether it is popular or serious.
STARS ON 88
Steinway Artist Joja Wendt is Germany's most successful pianist; no one reaches a huge audience with the piano as he does.  With STARS ON 88, the piano virtuoso presents his most POPular program until now: the audience will have a wild journey through pop history with surprising reinterpretations of the most famous songs by Michael Jackson, Robbie Williams, AC/DC or Ed Sheeran.  But Joja Wendt will also add spotlight to legendary hit giants such as Vivaldi, Bach or Rachmaninov and proofs once again that good music inspires people.