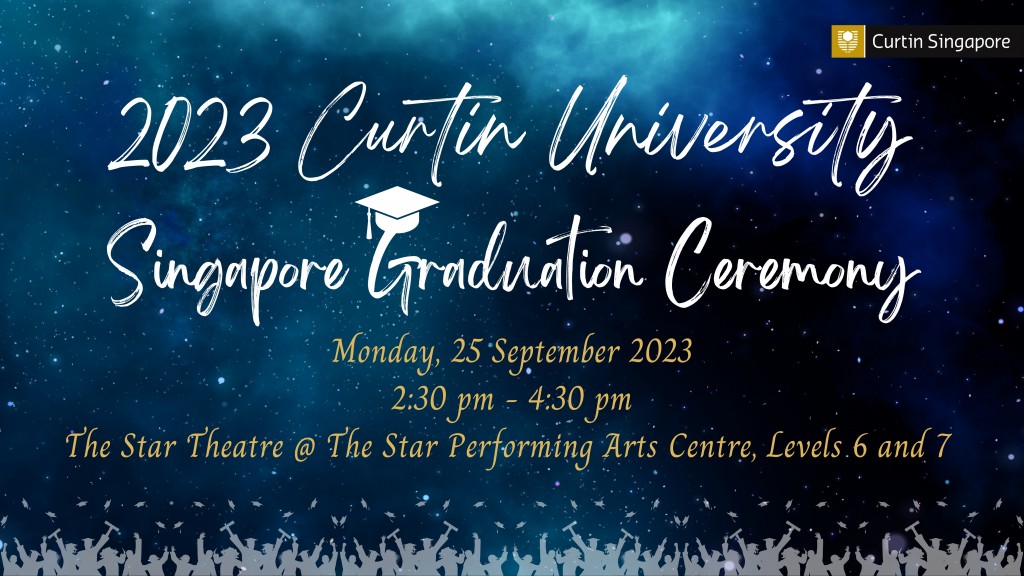 A hearty Congratulations to all graduates!
The University celebrates this special occasion with you, your family, and friends, to mark the achievement of a major milestone in your life.  This Graduation Ceremony signifies the start of a new journey as you are now officially a Curtin Singapore alumnus, ready to embark on your career and to take on new challenges in your profession.
Curtin University congratulates each one of you as we celebrate your achievements at your Graduation Ceremony. We look forward to meeting the graduates where they mark the next milestone in their life.
Curtin University Singapore Graduation Ceremony 2023
Date:  Monday, 25 September 2023
Time:  2:30pm – 4:30pm
Venue:  The Star Theatre (Levels 5 to 7), The Star Performing Arts Centre, 1 Vista Exchange Green, Singapore 138617
Guest Tickets
Two (2) complimentary guest tickets will be provided to all graduates.  Tickets for additional guests will be available for purchase.
Graduates are allowed to purchase not more than 2 tickets.  All tickets are priced at SGD $50.
Please note that additional guest tickets are subject to availability as it is on a first come first serve basis.
Do note that purchased tickets are non-refundable.  Free seating for all guests.
For more information, please email the Curtin Singapore Graduations Team at graduations@curtin.edu.sg.