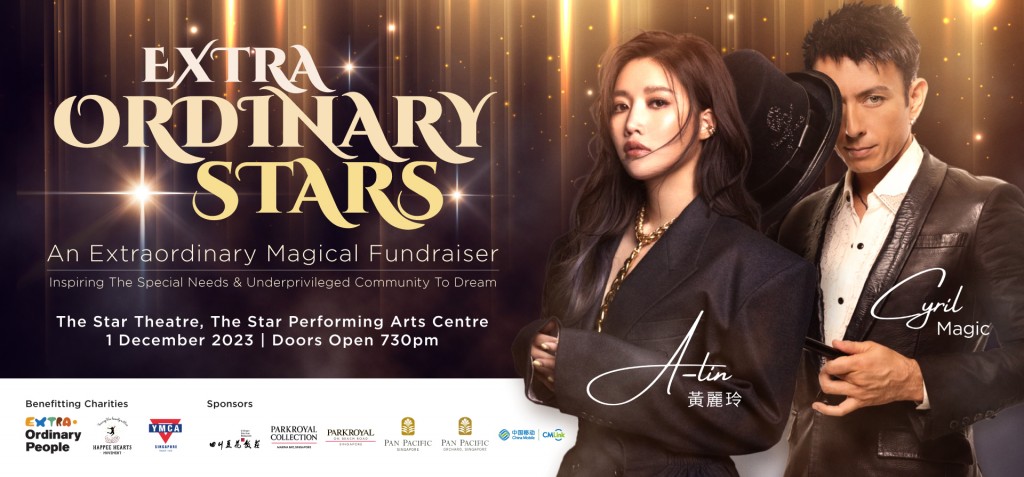 Inspiring The Special Needs & Under privileged Community To Dream
An inaugural 100-minute live performance arts extravaganza of international artistes and local talents to fundraise and inspire the special needs and less privileged to Dream.
"Extra•Ordinary Stars" is an amazing night dedicated to inspiring hearts and transcending barriers. This magical fundraiser will benefit three IPC charities: Extra•Ordinary People, Happee Hearts Movement and YMCA with a mission to inspire the special needs and less privileged community to Dream
Our event brings together international artistes from Taiwan and Japan, with our very own dazzling local talents and "Extra•Ordinary Stars". This event truly is a celebration of genuine human to human connection and the resiliency of the human spirit and our community hand in hand.
Experience the magic of unity and the power of community when we move from "me" to "we". Everyone has the capacity to touch someone's lives and Be a Hero to someone!
Join us at "Extra•Ordinary Stars" and Unleash Your Light!
Brought to you by Extra•Ordinary People.
Extra•Ordinary International Stars Cast
A-Lin 黃麗玲, 2023 34th Golden Melody Award Winner for Best Mandarin Female Singer.
Cyril Takayama, The David Devant Award Recipient 2023 for significant contribution to advancing the art of magic internationally.
Extra•Ordinary Stars Cast
Zanna Kimberly Phua Wei En
John Chan
Isebelle Lim
Adelyn Koh
Daniel Teo
Chao Yang School Choir and Dancers
CANTARE Choir conducted by Mrs Kwek-Phua Khee
Raffles Talent Academy Chinese Folk Choir
Singapore Raffles Music College Dancers
Extraordinary Light Orchestra from Extraordinary People Limited
Extra•Ordinary Singapore Cast
Gisele Chiam
Wheel Smith
Charmine Yee
Benjamin Kheng
Glenn Yong
Kelvin Tan
Extra•Ordinary Taiwan Stars Cast
Annie, 23歲喜憨兒女孩兒/女主角
黃美珍 MJ, 五新學院-新創藝院長
吳建恆 Ken Wu, 五新學院顧問
金陽 Young C, 五新學院-新創藝學院HipHop街舞&音樂創作顧問與師資
陳威全 VC, 五新學院音樂顧問/師資
SEN/Klein, Unleash Your Light 影像總監
許皓然 Howard HSU, 五新學院音樂師資
顏世琳 Forty Yen, Unleash Your Light 五新學院學生/劇裡角色
韓保羅 P-Rabbit, Unleash Your Light 五新學院學生/劇裡角色
平傑 Party Jay, Unleash Your Light 舞台劇舞蹈總編排
5N ACADEMY NEW ARTS STREET DANCE CLASS TEAM TEACHERS
楊子頡 CC, 舞齡9年, 擅長 HipHop, Freestyle
金芑, 舞齡13年,擅長 HipHop 舞風
丘必信 Sexydancer Shin, 舞齡16年, 擅長 Popping, freestyle
六百五 650, 舞齡12年, 擅長 Locking & Freestyle
徐皓, 舞齡16年, 擅長 Locking
5N ACADEMY HIP HOP DANCE TEAM
張凱博 Kai, 擅長 Locking, 台灣舞團 94DD 成員
王冠宇 Swag, 擅長 Locking, 台灣舞團 94DD 成員
陳英瑜 Fish, 擅長 Locking, 台灣舞團 94DD 成員
Start Sales Date
Internet, Mobile & Other Channels:
13 Oct 2023, 5pm
---
Language
English & Chinese
---
Duration
Approximately 1 hour 40 minutes, no interval