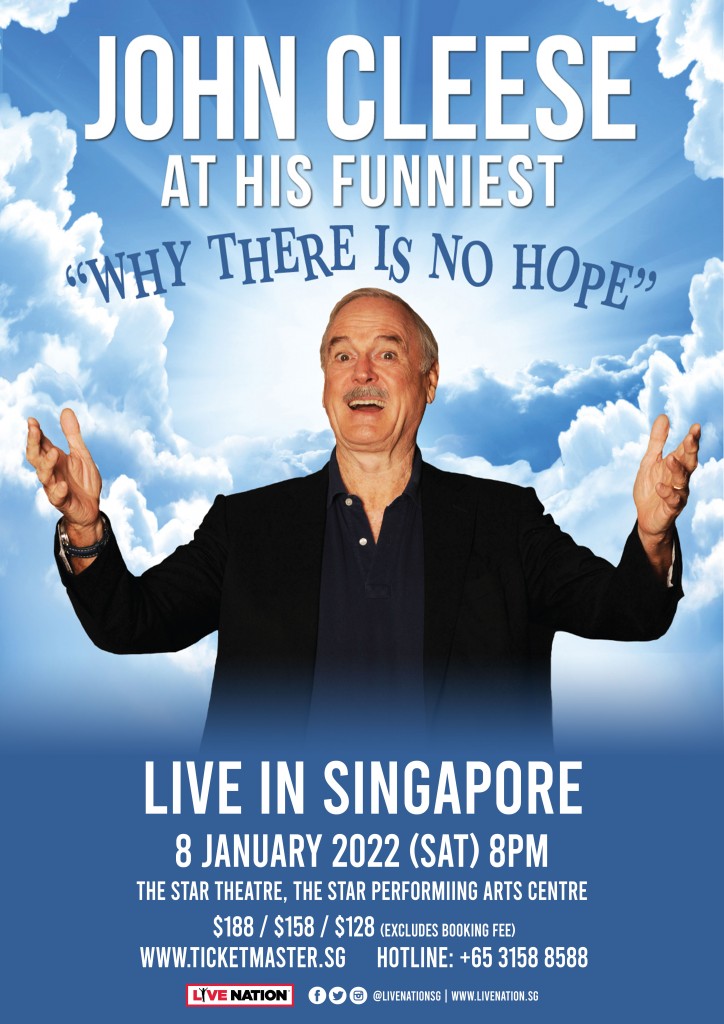 Rating: Advisory 16 (To Be Advised)
Duration: Approx. 90 minutes
Comedy icon John Cleese returns to our shores to perform "live" in his brand-new stand-up show titled "Why There Is No Hope" on 8th of Jan 2022 Saturday at The Star Performing Arts Centre. Kicking off his first international comedy show for 2022 in Singapore, Cleese returns to the Singapore stage with his unique brand of humorous wit and insights.
Don't miss the "One and Only" John Cleese as he examines the dysfunctional world we live in with his hilarious and thought-provoking comedy special "Why There Is No Hope''. The show will feature Cleese riffing about society and issues ranging from woke culture, divorce, society, and comedy.
Come spend a hilarious evening with John Cleese, the legendary comedian, actor, screenwriter, and producer best known for Monty Python's Flying Circus, Fawlty Towers and A Fish Called Wanda. Described as an intimate show with a mix of part talk and part stand-up comedy with the addition of a question-and-answer session to complete an unforgettable night.
Grab your tickets for the first international comedy show of 2022 with John Cleese at his funniest on 8 January 2022, 8 PM, The Star Theatre, The Star Performing Arts Centre!
About John Cleese
"The world's funniest man" first made his mark as a member of the legendary Monty Python troupe in the 1960s and has gone on to write, produce, direct and star in some of the greatest comedic hits of the last forty years, even receiving an Oscar nomination for best screenplay for A Fish Called Wanda. Adding on to his various movie roles, Cleese is currently starring Paramount Pictures' "Clifford The Big Red Dog" and in Netflix's "Father Christmas Is Back" with Elizabeth Hurley. Far from your garden variety entertainer from his early comedic days at Cambridge University, to his landmark roles as an actor and founding member of Monty Python's Flying Circus, Cleese has continually parlayed his enormous talents into advancing the causes he believes in and writing several best sellers including his New York Times best-selling memoir, "So Anyway…".