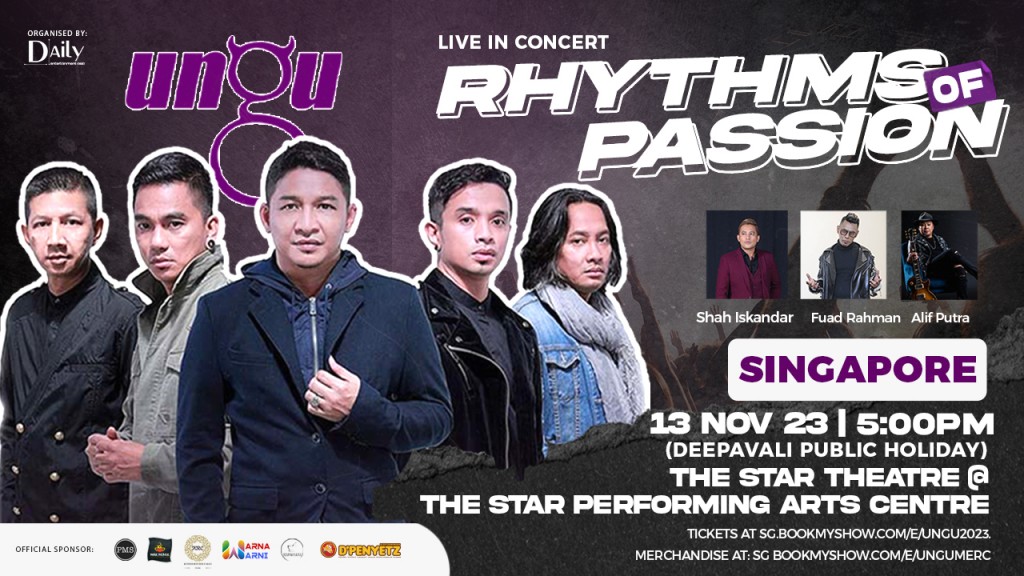 Daily Entertainment Asia is proud to present "Rhythms of Passion: Ungu Live in Concert". Get ready for an unforgettable evening as one of Indonesia's most beloved bands, Ungu, takes the stage for a monumental performance in Singapore. Celebrating their 27th anniversary, the band is set to deliver an electrifying concert experience filled with soul-stirring melodies and heartfelt lyrics.
"Rhythms of Passion: Ungu Live in Concert Singapore" is a momentous event that pays tribute to the incredible 27-year career of the renowned Indonesian rock band, Ungu. This highly anticipated concert promises an unforgettable evening filled with melodic masterpieces and heartfelt performances.
Ungu, known for their ability to touch hearts with their soul-stirring ballads and powerful rock anthems, will take the stage with an unwavering energy. The band members' impeccable musicianship, combined with their unmistakable chemistry, creates an enchanting synergy that effortlessly draws the audience into their musical world.
Throughout the concert, Ungu will be showcasing their diverse repertoire, spanning over two decades of musical brilliance. The setlist is carefully curated, featuring timeless classics that have become anthems for their devoted fan base, as well as newer tracks that reflect the band's growth and evolution.
With every song, Ungu will be delivering a passionate and emotionally charged performance. The lead vocalist's Pasha captivating voice resonates deeply, conveying the raw emotions embedded in the lyrics. The band's skilled instrumentalists create a seamless fusion of melodies, accentuating the depth and beauty of each composition.
The concert will take place on 13 November 2023, at 5:00 PM at The Star Theatre, located within The Star Performing Arts Centre. This magnificent venue is renowned for its state-of-the-art facilities and excellent acoustics, ensuring that every note resonates with the audience's hearts and souls.
Presented by Daily Entertainment Asia.
"Rhythms of Passion: Ungu Live in Concert" is a testament to Ungu's enduring legacy and their remarkable contribution to the Indonesian music industry. It is a night where fans can come together to honor the band's 27-year journey, revel in the power of music, and create cherished memories that will last a lifetime.