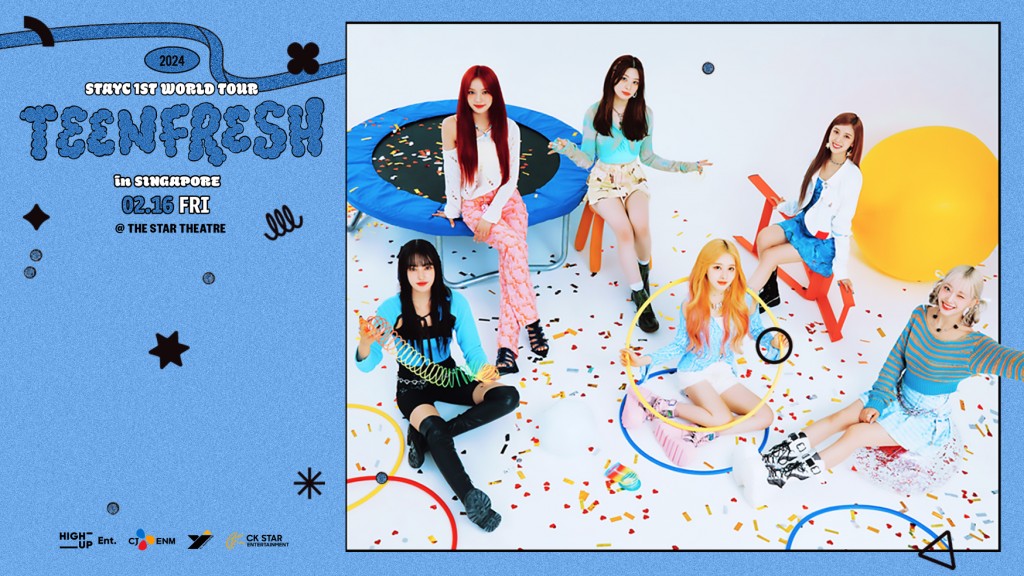 2024 STAYC 1ST WORLD TOUR [TEENFRESH] IN SINGAPORE
Rising  girl group STAYC—consisting of 6 members, Sumin, Sieun, ISA, Seeun, Yoon, and J—will be making their way to Singapore for their inaugural world tour, titled "[TEENFRESH]". Proudly presented by CK Star Entertainment, the show will take place at The Star Theatre on 16 February 2024 (Friday) at 7PM.
STAYC debuted under South Korean entertainment label Highup Entertainment in November 2020 with title track "SO BAD" (2020) from their first single "Star To A Young Culture", an acronym of the group's name. As their name suggests, they hope to become a "star that leads the younger generation".
The group invented and are champions of a new "TEENFRESH" genre in K-Pop—derived from a combination of the words "teenager" and "fresh" —and is aimed at bringing out the confidence of teenagers through their music that holds a strong core message of self-love and empowerment.
Even before STAYC's debut, there was much anticipation as they were the first girl group produced by legendary K-Pop producer group Black Eyed Pilseung, who are known for being the 'trustworthy' hit-song-creators for legendary artistes such as TWICE, CHUNG HA, Apink and SISTAR.
Following their first single, the group went on to release increasingly successful tracks in the vein of their "TEENFRESH" concept: "ASAP" (2021), "STEREOTYPE" (2021), "RUN2U" (2022), and most recently "Bubble" (2023), all of which achieved peak chart positions within the Top 10 rankings on major Korean music charts.
Their music has also captivated a large audience globally: The hit song "ASAP" (2021) charted at No. 9 on Billboard's K-pop 100 just 5 months into their debut, while "RUN2U" (2022) hit No. 3 on the same chart and reached No. 8 on Spotify's Top Song Debut Global Chart.
Their tracks often go viral on social media platforms, with "STEREOTYPE" (2021) being used in more than 48.1K videos on TikTok alone.
STAYC continuously showcases new and fresh sides in their concepts and releases. Through the members' striking visuals, distinctive vocal tones, and masterful stage performances, the group has quickly become one of K-Pop's most-loved acts with an ever-growing fan base, despite being a younger group.
And in response to the voracious demand from "SWITH" (the name of STAYC's fans) who want to catch these captivating performances in the flesh, STAYC embarked on their debut world tour "STAYC 1ST WORLD TOUR [TEENFRESH]" in September, which will bring them to a total of 11 cities in the U.S. and Asia.
Their two-day domestic concert in Seoul was extremely well-received and sold out within a minute. The group also successfully sold out three major U.S. cities—Seattle, San Fransisco, and LA, which once again reaffirms STAYC's global popularity.
SWITH in Singapore can anticipate 
STAYC
's signature high-energy stages, fresh charms, and irresistible music during their concert. Tickets for "
2024 STAYC 1ST WORLD TOUR [TEENFRESH] IN SINGAPORE" 
will go on sale on 
14 November (Tuesday)
 at 
12PM
 via 
www.ticketmaster.sg
, +65 3158 8588, and all SingPost outlets.
GENERAL SALE

14 November 2023 (Tuesday), 12PM
Via 
www.ticketmaster.sg
, +65 3158 8588, and all SingPost outlets