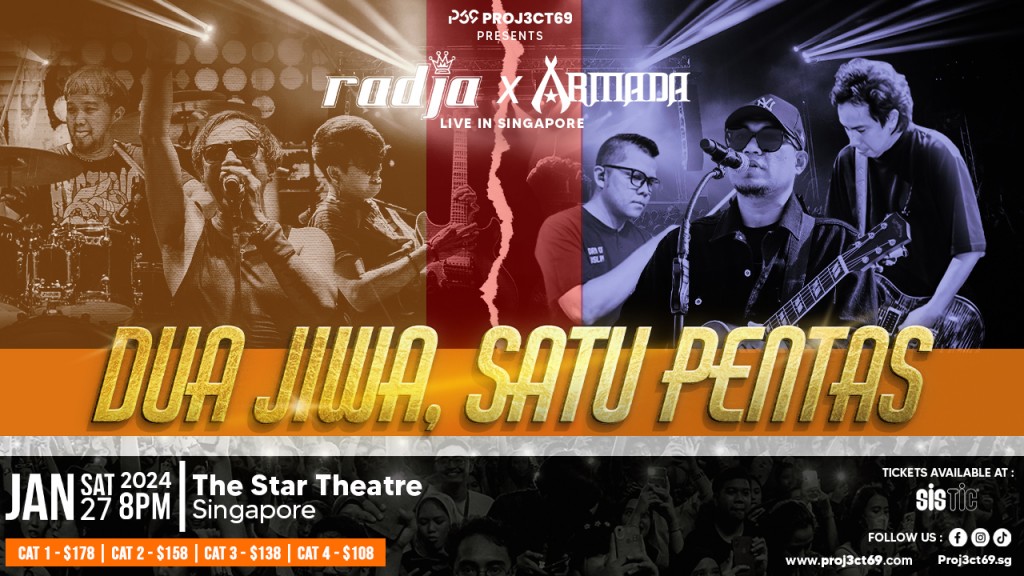 "Proj3ct69 proudly present Radja X Armada band Live In Singapore!"
Get ready to witness "Radja" and "Armada" Bands, with their long-awaited concert in Singapore this January 2024, 27th January at Star Theatre. Radja is a music group from Banjarmasin, Indonesia, founded on March 17, 2001, which consisted of Ian Kasela (vocalist), Moldy (guitarist), and Seno Aji Wibowo (drummer). They are one of Indonesia's prominent bands which has received several awards including Double Platinum with sales reaching 400,000 copies with list of songs entitled ' Cinderella ', ' Manusia Biasa ', ' Tulus ', ' Bulan ' and ' Jujur '." And Armada, the band formed in 2007, is about Rizal, Mai, and Andit. The phenomenal song ' Asal Kau Bahagia ' has been viewed by 400 million viewers on YouTube and 47 million on Spotify. With 6 albums and a bunch of hit singles, Armada sure is one of the best bands in Indonesia, with six albums and a bunch of hit singles. In 2021, after the release of ' Aku Di Matamu ' in February, they returned to ' Halu Boss.' Both singles became part of their 7th album, ' Kita Bersaudara,' which has been sold over 400 thousand copies in just six months into its release in Indonesia alone.
For the very first time, we get both TOP bands on one stage. Do catch them, Radja and Armada, 27th Jan 2024 at The Star Theatre, 8pm.
Start Sales Date
Early Bird:
Internet & Other Channels:
25 Sep 2023, 10am – 1pm
General Sale:
Internet & Other Channels:
25 Sep 2023, 1pm
---
Language
Malay
---
Duration
Approximately 2 hours, no interval