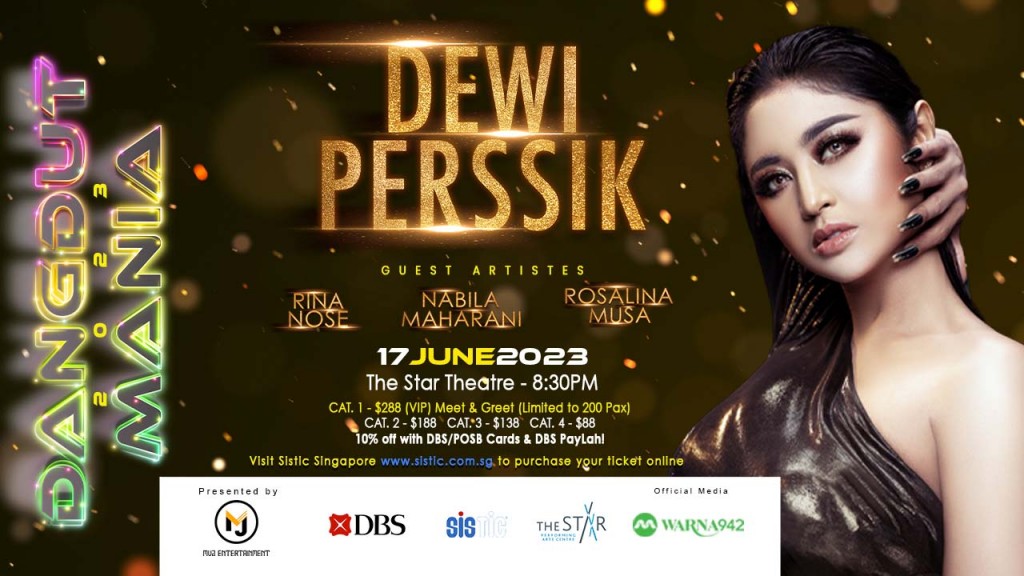 Be mesmerised by Dewi Persik also known as an artist who has a distinctive musical style, namely dangdut music. The dangdut style of music performed by Dewi Persik is always accompanied by energetic and sensual movements and stage styles. This makes her a dangdut artist who has a special charm in the eyes of her fans in this special concert specially curated for her fans in Singapore.
In Concert "Dangdut Mania 2023", Dewi Persik will be crooning to her greatest hits and renditions of popular songs.  Dewi Persik will also be accompanied by stellar performances from Indonesia's rising stars Rina Nose and Nabila Maharani and local artiste, Rosalina Musa.
---
Rosalina Musa, dubbed as Singapore's Dangdut Queen, is a full-time singer with powerful vocals and catchy dances. Her true versatility widened her repertoires to trendy concepts of various music genres. She is confident in performing songs in different languages such as English, Malay, Chinese and Tagalog, and has performed in clubs with live bands in Singapore. Variety shows by the Suria Channel and other local functions had invited her for her enticing performances and talents. She has also successfully cut 4 albums and over 20 singles.
Beyond her singing talents, Rosalina is also skilled in acting. She has played various roles in over 8 telemovies of Malay and Indonesian dramas, as well as an Indonesian movie 'Hantu Sei Ladi'.
Her signature nickname 'Kak Rose' is popularly known in Indonesia. She represented Singapore as a commentator, for a programme called D'Academy Asia in Indosiar, a national tv station in Indonesia for 5 years since 2015, with over 50 episodes each year. With this opportunity, in 2018, she was appointed in Liga Dandgut Indonesia (daily Live programme) as the only foreign judge for 5 months. She was also involved in Bintang Pantura and in over 30 episodes of Microfon Pelunas Utang. With a supportive fanbase, Rosalina has also held many concerts in various cities in Indonesia.
Rosalina is an entertainer who can be sure to impress audiences with her versatility in any genre.
Her passion for performing is highly admirable. Despite being recently diagnosed with Total Permanent Disability (TPD) due to an unsuccessful Spinal Cord Compression Surgery in 2020 and having lost a significant portion of her sense of sensation.. She still has a strong desire and passion to perform and entertain.
Her enrapture quality, which will indeed entice the audience
Start Sales Date
All Channels:
13 Apr 2022, 10am
---
Language
Malay
---
Duration
Approximately 2 hours, no interval.