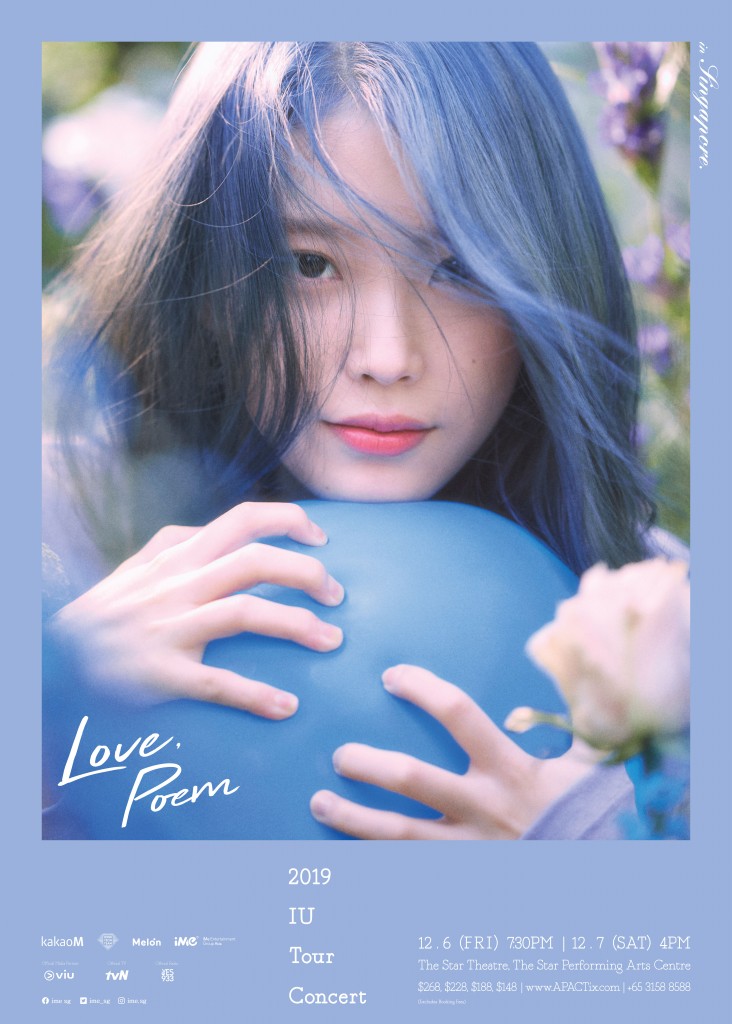 UAENAs! IU will be back in Singapore for her Tour Concert <Love, Poem> on 6 December 2019 (Friday), 7.30pm and 7 December 2019 (Saturday), 4pm at The Star Theatre, The Star Performing Arts Centre! 
Having debut at the age of 15 years old, IU has released four studio albums and nine extended plays, and her music has dominated K-Pop for a whole decade.
IU debuted with "Lost and Found" in 2008, but had begun her success in 2010 with "Good Day", the song that officially skyrocketed her career and allowed her to achieve national recognition.
In 2017, IU released "Palette", featuring G-Dragon, retaining her dominance in the music chart. The song is a mostly self-written and composed title track on an album that is also lyrically led by her. Billboard ranked Palette the best K-pop album of 2017.
Celebrating her 10th anniversary in 2018, IU released her single "Bbibbi" which surpassed one million listeners in Melon music site in just 16 hours.
Billboard recognized IU as the all-time leader of its K-Pop Hot 100 chart with the most number-one songs and the artiste who has held the number–one position for the most number of weeks.
Apart from IU's music career, she has ventured into hosting television shows, radio, as well as acting. IU made her silver screen debut in 2011 on the popular drama, Dream High, and other noticeable works like My Mister, Bel Ami, You are the Best, The Producer and Moon Lovers: Scarlet Heart Ryeo.
In April 2019, IU made her film debut in Netflix series "Persona", where she had yet another breakthrough in her acting career as she portrays different characters in four different short films. In July the same year, IU took on the lead female actress role in tvN's highest-rated drama "Hotel Del Luna". IU's character "Jang Man-Wol" won the hearts of the viewers, and the drama is one of the highest rated drama in Korea cable TV history.
Since her debut in 2008, IU has received numerous nominations and awards for both her singing and acting. She was also listed 5 times as one of the most influential people in South Korea by the Forbes Power Celebrity list.
<Love, Poem> is a new chapter for IU's 2019 Tour Concert, which will kick off from Kwangju, followed by other cities in South Korea such as Incheon, Busan and Seoul, before she heads to Asia.
2019 IU Tour Concert <LOVE, POEM> In Singapore will be held on 6 Dec (Fri) 7.30pm and 7 Dec (Sat) 4pm at The Star Theatre, The Star Performing Arts Centre. This will be the second time IU will be performing in this venue and be assured that her performance will not disappoint.
UAENAs in Singapore, mark your calendars on 6 and 7 Dec! Join us to be dazzled by IU's captivating voice and exquisite concert experience! See you!