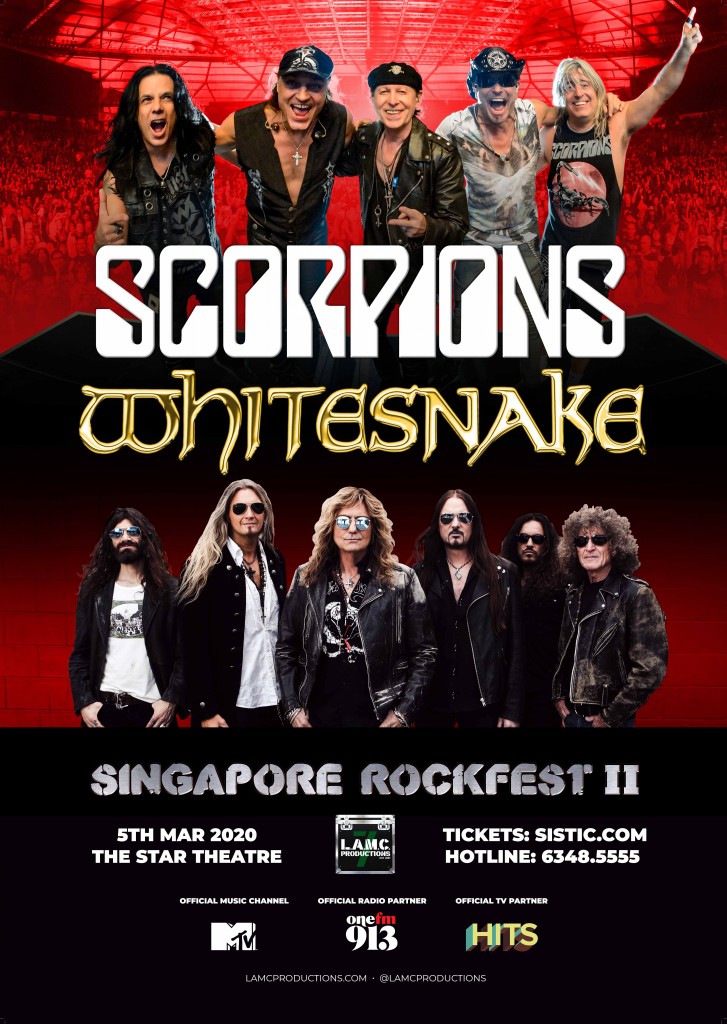 LAMC Productions is excited to announce that world-renowned German rock band Scorpions and iconic English hard rock band Whitesnake are headlining Singapore Rockfest II on 05 March 2020, Thursday, at The Star Theatre!
All tickets purchased for the previous date and venue scheduled 04 March 2020 at Fort Canning Park will be valid for the new date and venue: 05 March 2020 at The Star Theatre.
Rock out to full sets from two of the most celebrated rock icons in one night at the return of the hugely anticipated Singapore Rockfest. Opening its first night is homegrown Singapore-based rock band RockWeller.
One of the finest and most original hard rock bands to emerge from the Lion City, RockWeller is a band destined for international stardom!
ABOUT THE ARTISTS
Scorpions
50 years have gone by since the days where the juvenile Klaus Meine, Rudolf Schenker and Matthias Jabs wandered the streets of Hannover, which was just awakening from post-war paralysis, with a barrow carrying their instruments and amplifiers. Since then, the band has become Germany's or rather Continental Europe's most successful rock band and an instantly recognisable name in the rock scene.
Expressing a career like the one of the Scorpions in mere numbers is almost impossible. However, one number that should still be mentioned is more than 100 million records sold to date. However, countless silver, gold and platinum awards are only one side of the Scorpions' history. Another is their unabated desire to travel. They have played thousands of concerts in all corners of the planet: from Rio de Janeiro, Tokyo, Moscow, Washington, Dubai, Paris to Berlin.
In 1988, they were the first Western rock band to play sold‐out shows five days in a row in the then still Soviet Leningrad. They've swept the board big time in Brazil in 1985 at the legendary "Rock in Rio" festival which was then documented on the epochal live album "World Wide Live" – the band's final breakthrough in the US, cementing their reputation as one of the planet's hottest live bands.
And then there was the 1989 "Moscow Music Peace" festival, where the Scorpions ultimately conquered Russia, inspiring Klaus Meine to write the track that not much later became the theme song to the Iron Curtain's final fall: "Wind of Change".
There were many magic live moments; some of them are captured on live albums, others on film and video recordings. These are the moments, which have cemented Scorpions' reputation as one of the most iconic artists of our time.
Whitesnake
Mega platinum Whitesnake, the legendary rock 'n' roll band founded and formed by Deep Purple singer and Rock and Roll Hall Of Famer David Coverdale are proud to announce the continuation of the 2019 "FLESH & BLOOD" World Tour into 2020.  Following the global success of the "FLESH & BLOOD" album, Whitesnake played 55 shows in 24 countries to over 600,000 fans in 2019.
As of 2019, the tour will feature songs from the bands critically acclaimed and award-winning 13th studio record entitled "FLESH & BLOOD" alongside their biggest hits and songs from one of the greatest back catalogues in rock 'n' roll history spanning over 40 years.
The first single and video from the new record entitled "SHUT UP & KISS ME" was released worldwide in February 2019 amassing over 2 million YouTube views.
The follow up singles "HEY YOU… YOU MAKE ME ROCK" and "TROUBLE IS YOUR MIDDLE NAME" remained on radio playlists around the world for months after release.
Founded in 1978, the band have earned multi-platinum albums including 'TROUBLE', 'LOVEHUNTER', 'READY AND WILLING' and 'COME AN' GET IT' through to the explosive hard rock of the revamped 'SNAKE sound with the multi-platinum 'SLIDE IT IN' & having just celebrated its 30th anniversary in 2017, 1987's self-titled mega-million-selling smash-hit album, 'WHITESNAKE'.  From these albums came multiple top 10 hits worldwide, including 2 number 1 singles with "Here I Go Again" and "Is This Love" as well as the unforgettable hammer of "Still Of The Night" all leading to virtual 24-hour domination of MTV around the globe.
Bombast, bravado, talent and passion have helped establish Whitesnake as the perennial platinum favourite they have become and they're back with a vengeance in 2020.  The world-renowned group featuring David Coverdale (vocals), Reb Beach (guitar), Joel Hoekstra (guitar), Michael Devin (bass), Tommy Aldridge (drums) and Michelle Luppi (keys) are coming to Singapore soon.
RockWeller
Moulded from the ashes of rock gods themselves, RockWeller is one of the finest rock bands from Singapore. Clocking in over a 100 performances around the Lion City since 2014, the band is frequently heard and seen playing classic rock anthems and the likes, and their strong following prove them a worthy listen. Their influences include classic rock, hard rock, glam rock, heavy metal and punk. The lineup consists of vocalist Olga Osmanova, bassist Joseph Mark Goh, Benjamin Hwang on rhythm guitar, lead guitarist Joel Gan and Henry Tudor on drums. RockWeller is currently working on their follow up EP to 2019's Graceland, which features five songs about overcoming all odds, being inspired, falling in love, reflecting on life and finding your own faith.