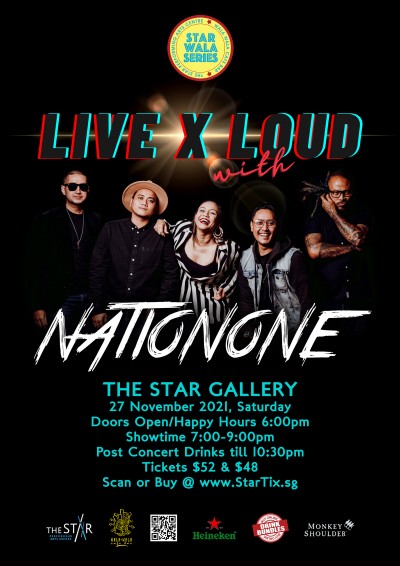 EVENT NOTICE
"Star Wala Series Presents: Live x Loud with NationOne" is scheduled to take place on Saturday, 27

th

November 2021. Please note the following essential information that you will need to plan for prior to the concert:
Ticket sales for the event will be subjected to prevailing Safe Management Measures (SMMs).
All attendees of LIVE performance must be fully vaccinated. Unvaccinated individuals must undergo Pre-Event Testing (PET) by an approved Ministry of Health (MOH) test provider or have valid exemptions as stipulated by the government. For more details on the exemptions please refer to our PET FAQs.
You will need to produce any one of the following 'Acceptable Documents' together with your original Government-issued photo identification (e.g. NRIC and/or Passport) for verification to gain entry to the venue:

Valid vaccination status on SafeEntry (Business) App; or
Valid "cleared" test status on SafeEntry (Business) App; or
PET Exemption Notice issued by a MOH-approved COVID-19 test provider; or
Discharge Memo with the first PCR date indicated and issued by MOH.
For further event queries and any refund requests (in case of event cancellation), please email:

startix@thestar.sg

.
For nearly two years live music has been suspended due to the Covid 19 pandemic.  As most musicians turn to online to stream their performances, live shows have never been the same again.  Live x Loud is a comeback live show for the local band NationOne.  "It's the first time with real live audience after a really, really long time", says Raz the lead vocals.
NationOne collectively came together in 2013; with each member contributing their own character and experience to solidify the dynamics of the band.  Always keeping up with current trends of new music while keeping the old classic ones afresh.
Since their inception, this anaelectronic band known as a 'trendsetter' for the local night scene and had a few residency gigs at the best bars and clubs in Singapore.  They performed for several events such as Singapore Night Festival '15, Rockestra '19, BMW Motorshow and more.  NationOne was also actively involved in non-profit organization performances such as Singapore Relay for Life 2018 and Pink Ribbon Walk 2019.
Lead by Raz, a versatile vocalist/performer of over a decade and music producer Kaz, the band are always geared up to entertain the audience with their smashing sound, high energy performances and powerhouse vocals!
Their music covers entails of elements of all Top 40s, from Pop, Rock, Retro, RnB to the current sounds of New Music.  NationOne brings people together as ONE for the love of music.