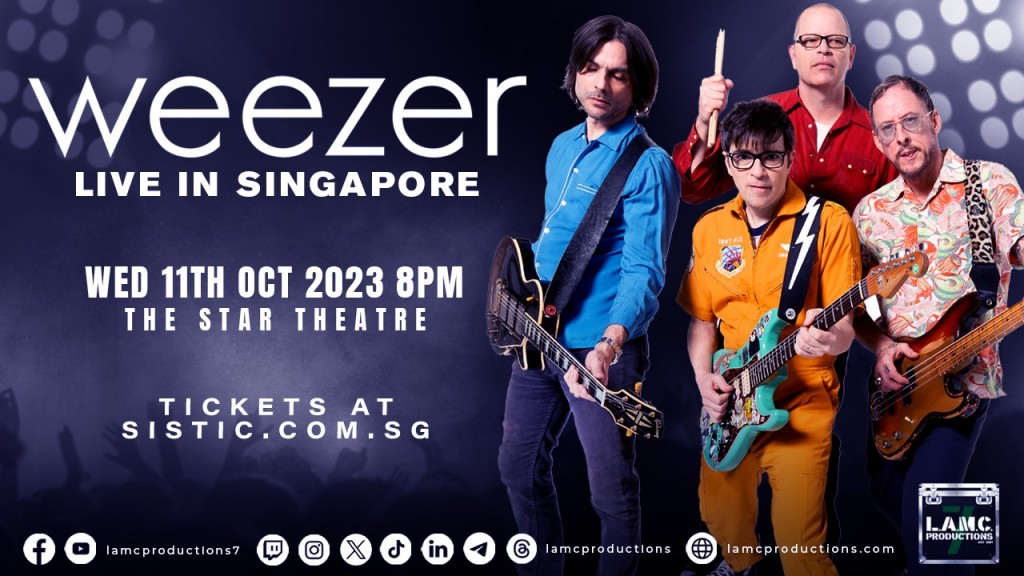 Alternative band Weezer takes their chart-topping hits to Singapore
Time to bust out your best indie rock outfits. Coming from their star-studded "Indie Rock Roadtrip" summer tour, Weezer is set to bring their hit songs to Singapore on October 11th, 2023 at The Star Theatre! This is their only stop in Asia brought to you by LAMC Productions. Tickets go on sale August 18th, 2023, 10am via Sistic outlets and sistic.com.sg.
American rock band Weezer formed in Los Angeles, CA in 1992, currently consisting of Rivers Cuomo (lead vocals, lead guitar), Patrick Wilson (drums), Brian Bell (rhythm guitar, backing vocals, keyboards), and Scott Shriner (bass, backing vocals). They have sold 10 million albums in the U.S., and over 35 million records worldwide. Their discography includes hit tracks like "Buddy Holly," "Undone (The Sweater Song)," "Say It Ain't So," "El Scorcho," "Hash Pipe," "Island in The Sun," "Beverly Hills," "Pork and Beans," and more.
Weezer has won GRAMMYs, MTV Video Music Awards, etc. Throughout their career. Following massively acclaimed albums and two sold-out amphitheater tours with Panic! At the Disco (in 2016) and Pixies (in 2018), Weezer released a fan-inspired cover of Toto's "Africa."  The platinum-awarded cover propelled the band back into the charts across the board, giving Weezer their fifth #1, tenth Top 5, and sixteenth Top 10 at Alternative Radio, in addition to landing Top 5 on the Hot AC chart. They then dropped a covers album at the start of 2019 which has been streamed over a hundred million times since its release. In 2021, Weezer released "OK Human," an orchestral pop album, and "Van Weezer," an homage to the band's shared metal roots growing up. "OK Human's" first single, "All My Favorite Songs," became one of the biggest rock hits of 2021, and was nominated for a GRAMMY for "Best Rock Song". In 2022, the band released "SZNZ," a four-EP project inspired by Vivaldi's Four Seasons, and completed the European leg of the Hella Mega tour, which sold out stadiums in America throughout the year prior.
Start Sales Date
All Channels:
18 Aug 2023, 10am
---
Language
English
---
Duration
Approximately 90 minutes, no interval