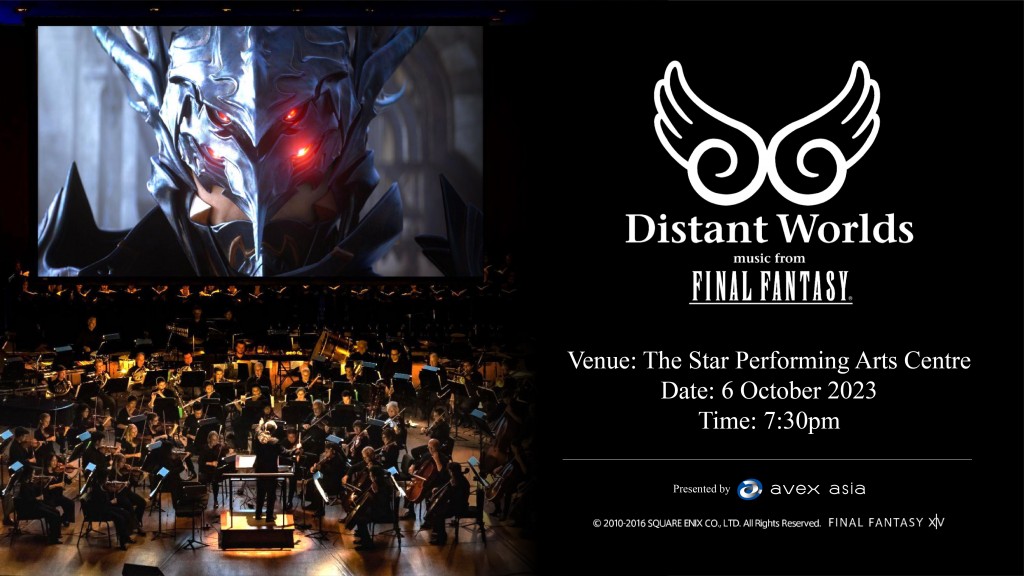 The DISTANT WORLDS: music from FINAL FANTASY concert has announced its comeback to Singapore after a 6-year hiatus. The one-night only concert will be held at The Star Performing Arts Centre on October 6th and is presented by Avex Asia.
The global multimedia concert phenomenon, featuring the music of FINAL FANTASY, combines stunning high-definition video scenes created exclusively for the concert by legendary game developers SQUARE ENIX, with a live symphony orchestra performance by over 100 musicians by Metropolitan Festival Orchestra and Symphonia Choralis. Conducted by Grammy award-winning conductor Arnie Roth, fans can look forward to new symphonic arrangements of the game, including premiere performances of scores from FFVII REMAKE, new scores from FINAL FANTASY's 35th Anniversary Tour, FFXIV, and live vocals from RIKKI and Susan Calloway, the original singers of "Suteki Da Ne" from FFX, and "Answers" from FFXIV.
"After 6 years, I am so excited to bring Distant Worlds back to Singapore, and with a fabulous new program. We are looking forward to meeting our fans in October at The Star Theatre once again!" – Arnie Roth
Distant Worlds has been a sold-out success in Singapore, from its debut concerts in 2009 to its latest concert in 2017. Singapore is the only Southeast Asia stop in 2023 for the Distant Worlds concert.
PROGRAM HIGHLIGHTS
FINAL FANTASY I-VI: Battle Medley
FINAL FANTASY VIII: Eyes On Me, performed by Susan Calloway
FINAL FANTASY VII REMAKE: Those Chosen by the Planet
FINAL FANTASY VII REMAKE: Stand Up
FINAL FANTASY X: Suteki da ne, performed by RIKKI
FINAL FANTASY XIV: Dragonsong, performed by Susan Calloway
FINAL FANTASY XIV Stormblood: Triumph
FINAL FANTASY XIV Shadowbringers: Invincible